Mendet Naturally Daily Skin Care Solution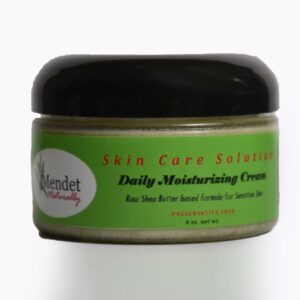 Mendet 4 oz cream
All natural raw shea butter based cream, formulated for sensitive skin, is the natural solution to your skin care needs.  Has been used for: Eczema, burns, surgical scars, stretch marks, razor bumps, itching and much more.
Ingredients
Unrefined Butyrospermum Parkii (Raw Shea Butter), unrefined Theobroma Cacao(Raw Cocoa Butter), Extra Virgin Organic Cocos Nucifera (Organic Coconut Oil), Tocopherol (Vitamin E Oil), Ricinus Communis, Olea Europaea, Tangerine Oil, Honey, Wheat Grass, and Chlorophyll.
Mendet Naturally Daily Skin Care Solution
Mendet Naturally Skin Care Solution Company began from a single formula that was used on my niece's eczema.  This raw shea butter based formula is a moisturizing cream created especially for sensitive skin and highly recommended for daily use.  Mendet Naturally has received a 5 out of  5 rating on Google based on customer reviews.