Mendet Naturally Cleanser Hand Sanitizer
Mendet Naturally Daily Skin Care Solution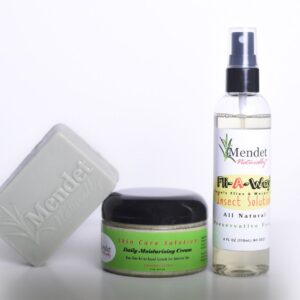 The Mendet Naturally cream is formulated for sensitive skin with a raw shea butter base.  This product leaves the skin moisturized and smooth. The organic goat's milk based soap contains Mendet cream as a moisturizing agent and doesn't leave your skin oil deficient and ashy.  These products have been used on eczema, burns, surgical scars and more. Fli-A-Way all natural preservative free insect solution repels flies, mosquitoes and other pests.  No DEET. Safe to mist around yourself or apply directly to your skin.
Mendet Ingredients:Unrefined Butyrospermum Parkii (Raw Shea Butter), unrefined Theobroma Cacao (Raw Cocoa Butter), Extra Virgin Organic Cocos Nucifera (Organic Coconut Oil), Tocopherol (Vitamin E Oil), Ricinus Communis, Olea Europaea, Tangerine Oil, Honey, and Chlorophyll.
Mendet Soap Ingredients:Organic Coconut Oil, Organic Palm Oil, Organic Goats milk, Glycerin (kosher, of vegetable origin), Purified Water, Sodium Hydroxide (saponifying agent), Sorbitol (moisturizer), Sorbitan oleate (emulsifier), Soy bean protein (conditioner), mendet, lavender oil, chlorophyll.
Fli-A-Way Ingredients:

Olive Oil (Olea europaea), Cedar oil (Cedrus atlantica), Eucalyptus oil (Eucalyptus globulus), Hydrated Silica, Lavender (Lavandula angustifolia), Mendet
Mendet Naturally Daily Skin Care Solution
Mendet Naturally Skin Care Solution Company began from a single formula that was used on my niece's eczema.  This raw shea butter based formula is a moisturizing cream created especially for sensitive skin and highly recommended for daily use.  Mendet Naturally has received a 5 out of  5 rating on Google based on customer reviews.